Kim Beaudoin for Jennifer Wood Media, Inc.
Wellington, FL – January 16, 2021 – Day three of Adequan® Global Dressage Festival (AGDF) continued on Saturday, January 16, with a second victory for Adrienne Lyle (USA) and Harmony's Duval, this time in the FEI Grand Prix Special CDI3*, presented by Harmony Sporthorses. The first week of AGDF concludes on Sunday, January 17, and the circuit hosts 10 weeks of international and national dressage competition until April 4. Free live streaming and on-demand of select classes are available to view at GlobalDressageFestival.com.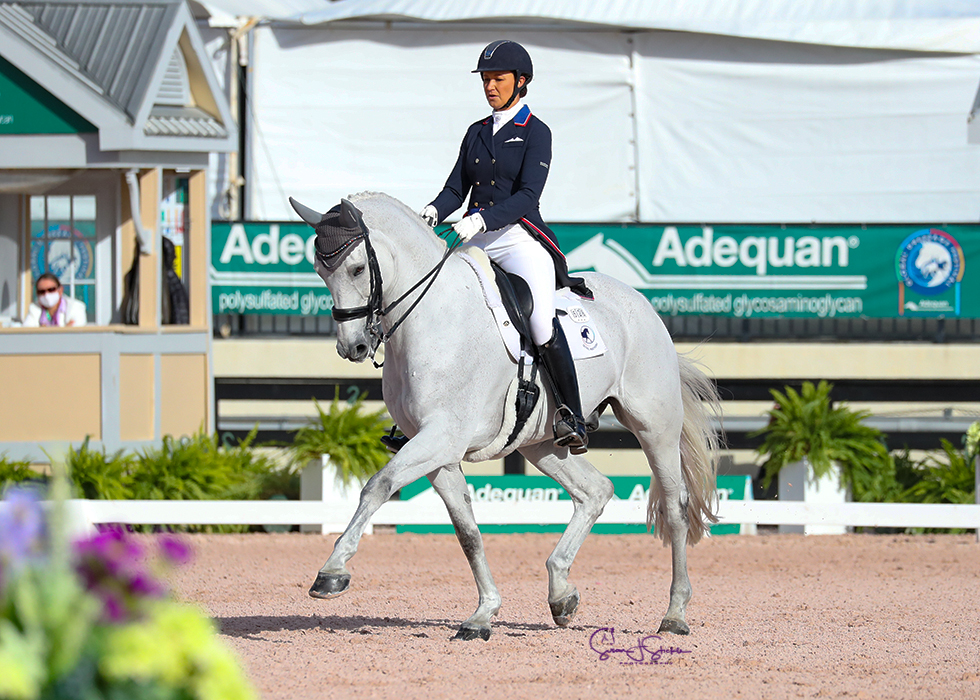 Lyle and the Duval Partners LLC's 13-year-old KWPN gelding (by Rosseau) earned a 74.830% for their day's performance. The pair landed three percentage points above second-place finisher Jennifer Williams, who earned a personal best score (72.192%) with Millione, an 18-year-old Danish Warmblood gelding by Milan owned by Millione Partners. Third place went to Susan Pape (GBR) on Harmony's Eclectisch, Harmony Sporthorses' 12-year-old KWPN stallion by Zenon, who received a 71.724% from judges.

"He felt much more comfortable in his own skin today," said Lyle of the gelding. "I was really happy with him. He felt much softer in his back, and the connection through the ride was a lot better than in our test on Thursday. He was really able to show off some of his highlights today, and I'm thrilled with the overall performance."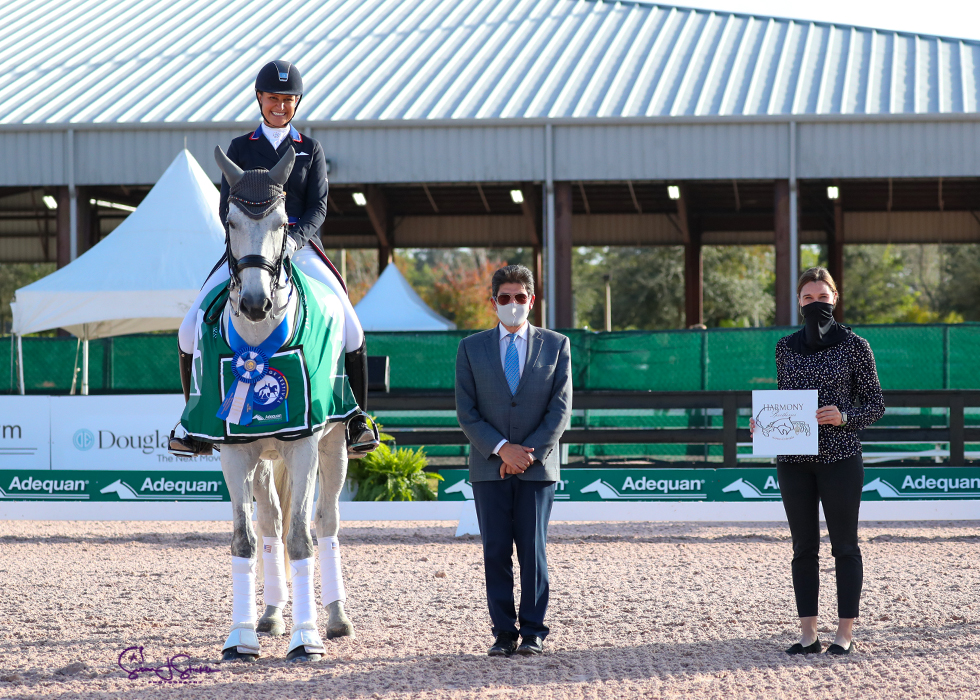 "He's always had a lot of talent for the collected work," she continued, "the piaffe, passage, pirouettes. When he's nice and supple and happy like he was today, he really shows it off nicely. With him, we're always trying to find ways to keep him relaxed mentally in his work. He tries very hard, and we always work to keep a very clear understanding between us about what I'm asking of him."
After two successful competition weeks (AGDF 1 and competition at the AGDF venue in December) Lyle does not have a definitive plan as to when the pair will compete next, but intends to give Duval a chance to have a bit of fun. "He has done so well, and we won't train super hard in between shows," she said. "He gets to go home and have a little bit of fun!"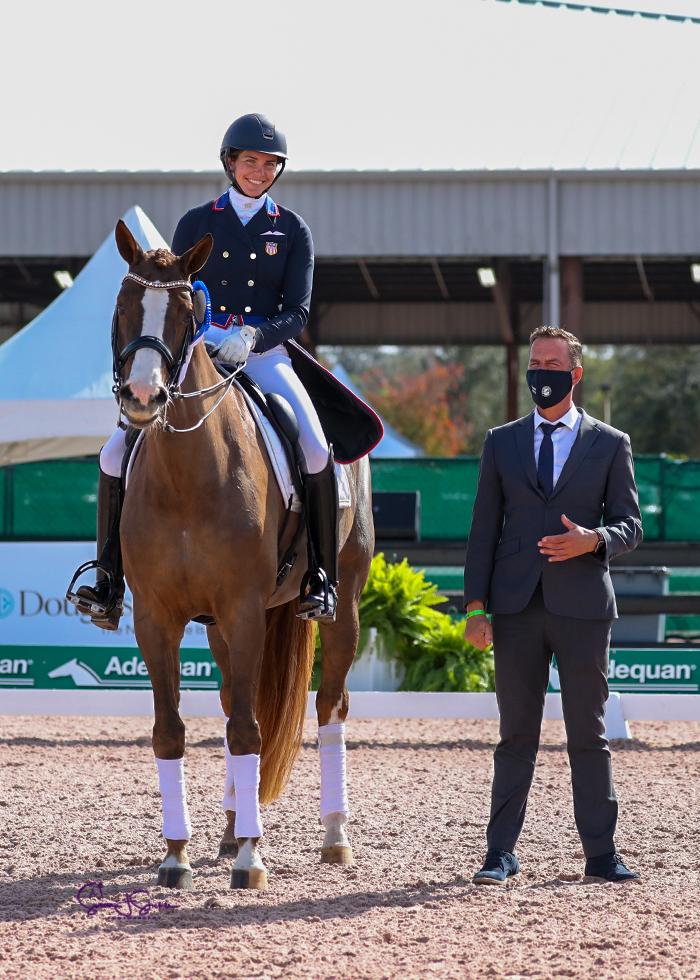 Earlier in the day, Anna Marek (USA) bested the FEI Intermediate I CDI1* riding Felissirana, Alise Carrico's 11-year-old KWPN mare by Belissimo M. The duo rode to a score of 69.618%. Second place went to Luuk Mourits (NED) and Harmony's Don't Stop The Feeling, Harmony Sporthorses' 12-year-old Hanoverian gelding by Don Primus, with a 68.324%. Jessica Howington (USA) closed out the top three aboard her own J'Adore, a nine-year-old Hanoverian gelding by Jazz, scoring a 67.029%.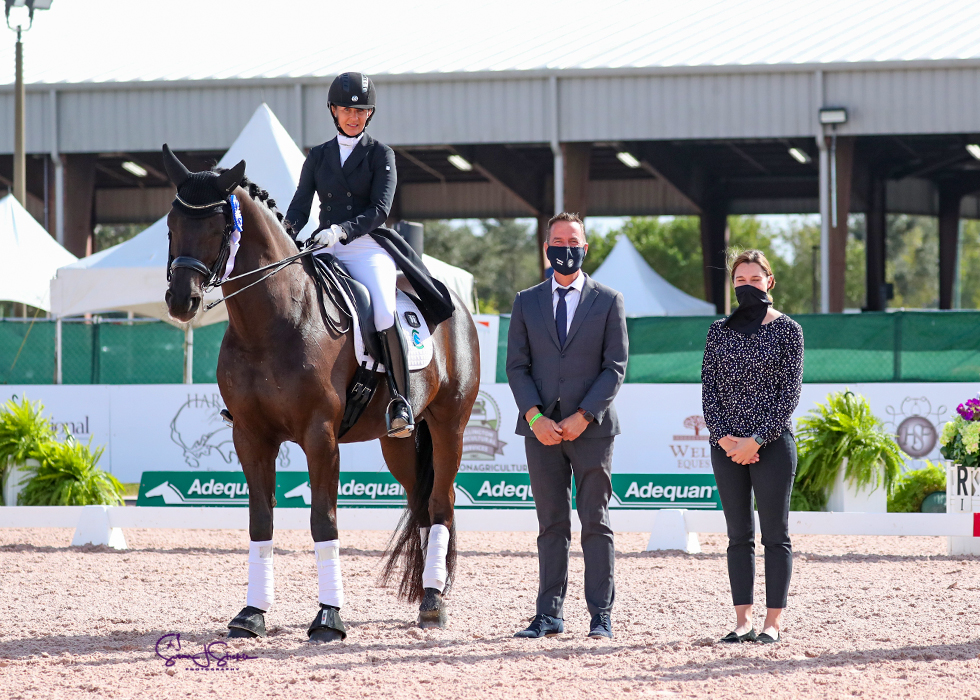 Victory in the FEI Intermediate A CDI3* went to Mikala Münter (USA) and her own 12-year-old Oldenburg gelding Skyfall, receiving a 67.529%. In the FEI Intermediate I Freestyle CDI3*, Kevin Kohmann (GER) marked his third victory of the week aboard Equitas LLC's 11-year-old KWPN stallion Five Star (by Amazing Star), ending the week with a 76.855%. Second place was awarded to Joanne Vaughan (GEO) and Forbes 7, her own 10-year-old Hanoverian gelding by Fidertanz, received a 66.450%.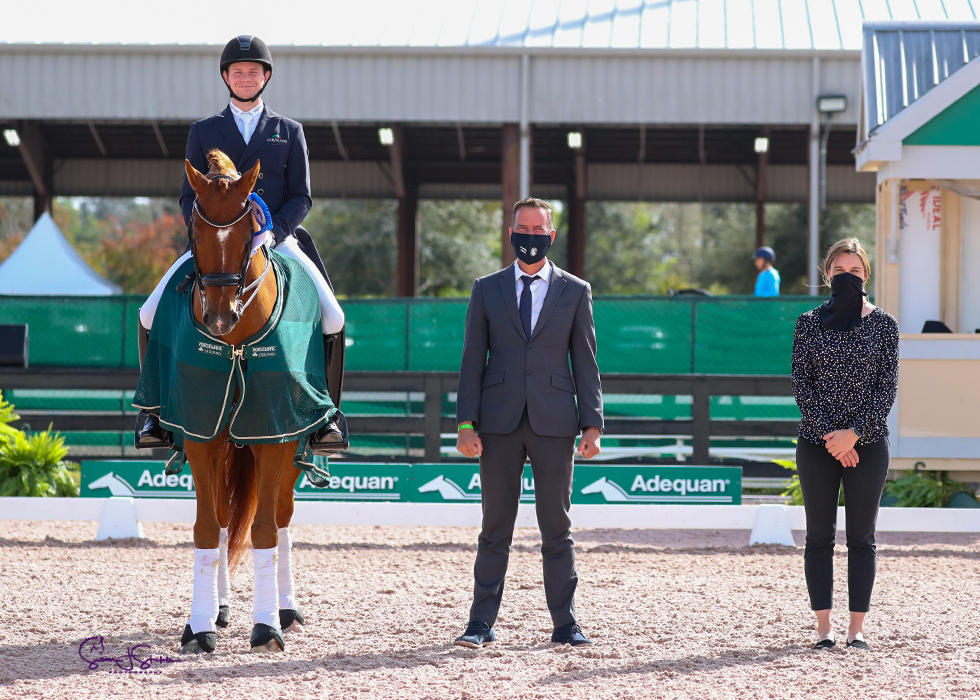 Competition at AGDF will conclude tomorrow after a full schedule of classes, including the FEI Intermediare 2 CDI3*, the 2020 Summit Farms Future Challenge Prix St. Georges Series Final, and the 2020 Lövsta Future Challenge Young Horse Grand Prix Series Final before the FEI Grand Prix Freestyle CDI-W, presented by Lövsta, beginning at 1:00 PM. For more information and to see a full list of results, visit www.globaldressagefestival.com.
Results
Place, rider, nationality, horse, horse information: judge E%, judge H%, judge C%, judge M%, judge B%; final score
FEI Grand Prix Special CDI3*, presented by Harmony Sporthorses:
E, Christof Umbach (LUX); H, Agnieszka Majewska (POL); C, Cesar Torrente (COL); M, Debbie Rodriguez (USA); B,Janet Foy (USA)
Adrienne Lyle (USA) on Harmony's Duval, Duval Partners LLC's 13yo KWPN gelding by Rosseau: 75.426, 75.426, 74.362, 74.574, 74.362; 74.830%
Jennifer Williams (USA) on Millione, Millione Partners' 18yo Danish Warmblood gelding by Milan: 73.723, 72.979, 70.745, 70.532, 72.979; 72.192%
Susan Pape (GBR) on Harmony's Eclectisch, Harmony Sporthorses' 12yo KWPN stallion by Zenon: 71.915, 72.447, 71.383, 70.426, 72.447; 71.724%
Guenter Seidel (USA) on Equirelle W, Louise Leatherdale's 12yo KWPN mare by Florett AS: 72.979, 69.149, 72.128, 70.957, 73.404; 71.723%
Jan Ebeling (USA) on Indeed, Vantage Equest Group II, LLC's 13yo Danish Warmblood mare by Hofrat: 72.553, 70.745, 70.106, 70.319, 71.809; 71.106%
Katie Johnson (USA) on Quartett, Kylee Lourie's 13yo German Warmblood gelding by Quarterback: 74.787, 67.234, 69.043, 70.319, 66.489; 69.574%
Karen Lipp (USA) on Whitney, Kathleen Oldford's 16yo Hanoverian mare by White Star: 66.702, 66.596, 66.383, 68.511, 66.489; 66.702%
Krystalann Shingler (CAN) on Fidelio, Krystalann Shingler's 13yo Oldenburg gelding by Fidertanz: 65.000, 62.660, 63.830, 66.277, 62.021; 63.958%
Photo credit: © SusanStickle.com. These images may only be used in relation to this press release and with credit.
Video Credit: ©Richard's Equine Video
(Visited 70 times, 1 visits today)